FAQ
Glad you asked! More about us on our
About/Contact page!
What happens when you buy a website? Here are the stages!
1 – Purchase the website!
2 – Upload your "Actor's Stuff". Don't worry! We guide you through this with ideas and examples. Plus, you can go back and add/change anything later! Some key items you'll decide on include:

3 – Set up your Domain Name (see "Domains" below).


4 – Then we build your site for you! Your site will be live within the week. You'll also receive:

The Prime package comes with a ton of stuff. The Pro package adds in Audio and Video pages, a more sophisticated contact form, domain email, and a blogging/news system. Upgrading is $99, but we prorate that to match the annual timing. So if you're 9 months into your year, the charge will be $75. The minimum charge is $50. To upgrade, just
contact us
and we'll do it for you!
Go ahead, purchase your site, upload your materials, and we'll build the site for you!
If you're not happy, let us know within 7 days after it goes live (that's a whole week to look at your site!) and we'll try to resolve any problem. If you just don't like it, then we'll give you your money back.
To be honest, we make this offer because we know everyone will be happy!

First off, we've built these sites so you NEVER NEED TO HIRE anyone to do anything for you. But alas, there may be a time when you want to change something on the site beyond the norm. Or you'd just prefer us to do the updates for you. Most basic work can be done for under $50. This includes swapping pictures, changing positions, custom colors, etc.
Contact us
and we can figure out the scope of your needs and give you a price estimate.
PHOTOS
Should be in .jpg or .png format.
VIDEO
First upload your videos to either "YouTube.com" or "Vimeo.com" (both are free services). Then send us the URL link to each video (the address bar of the web page).
AUDIO
Upload your audio to "SoundCloud.com" for free (it's the YouTube of the audio world). Send us URL links to each file, just like for 'video' above.
Why do we use these services?
Because they are massive worldwide systems that are fast and reliable. And they're free and easy, so why not?

ASPECT
Any of your pictures can be in portait (vertical) or landscape (horizontal) ratio.
PIXEL DIMENSIONS
Since website's don't require overly large pictures (and it slows down your site if they are too large), the system will automatically shrink all pictures to be no greater than 1200px in either direction. We recomend not uploading pictures smaller than 500px and there is no need for greater than 1200px.
FILE SIZE
Most pictures on websites should be in the 10-100kb (kilobytes) range for fast downloading. Our phones nowadays take pictures in the 3-5mb (megabytes, which are 1,000 times large than kilobytes) range. Try to send us web-optimized photos. If not, we will automatically shrink their size for you.
SPECIAL CONSIDERATION FOR HOME PAGE PICTURES
If you decide to use the design of 2 or 3 pictures side by side, as shown on some of our examples sites, please keep in mind that the vertical height of the picture's should match, unless you are ok with mixed heights (which is fine, just a design choice).

PDF is the industry standard for sending resumes; whether you're a stockbroker or an actor, it's what casting directors expect. Word documents are acceptable, but more prone to issues.
What if I don't have my resume in PDF format?
No problem! Most programs (Word, etc.) have a 'Save to PDF' option. Otherwise, there are free converters online where you just drag-and-drop your file in, and out pops a PDF. Here are some we recomend:


Because of its complexity, email does not come fully set up with any of the packages. This is in keeping with other companies (Wix, Squarespace, etc), but we are happy to help you set it up if you need it. With that said, our first recommendation is:
1 – Use the email you already have.
Why re-invent the wheel? If people have been emailing you for years, then it's best not to switch to a new account!
2 – Get a free Gmail account from Google.
YourName@gmail.com, or the closest you can get to that, is a great way to go. Google truly does have the best email system out there. It's also free and simple.

Domains
A "DOMAIN" is also called a "URL" or "SITE ADDRESS".
It's what you type in to get to
Microsoft.com
, or
Comcast.net
. A DOMAIN consists of TWO things:
EXAMPLE: When
YOU
type in "Microsoft.com", the
DOMAIN REGISTRAR
tells the internet to send you over to the
MICROSOFT SERVER
(a computer sitting in California) where the website data exists. You must REGISTER (buy) a DOMAIN to get that pointer for your site.

STILL NOT UNDERSTANDING? Ok, hopefully this helps…
> A WEBSITE
is the actual code that is your site. It's the design and presentation.
> A DOMAIN
is something you purchase to give your WEBSITE a name, and also point people to the address of the WEBSITE.
If you haven't registered your domain name, your site will be
ActorsWebsites.com/YourName
instead of
YourName.com
. This is why you need to register a name. Once you have a registered domain name,
contact us
to let us know what the final URL is and we'll convert your site to it.
WHERE TO PURCHASE A DOMAIN NAME:
Don't be fooled by fancy marketing. Squarespace offers 'free' domains with your first year, but they don't tell you they charge between $20-70 per year afterward!
We're currently working on a way to bring super-low prices of domain names to our customers. But until we work that out, we can recomend places where you can purchase Domains for as little as $8:
STEP-BY-STEP GUIDE:
We'll show you
GKG.net
's forms, but the idea applies to any Domain Registration company:
1 – Choose your domain name.

2 – If it's available, great! If not, alternatives will be presented: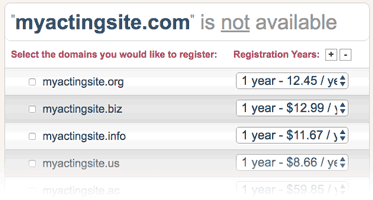 3 – The Up-Sell.
This is where you'll be pushed to buy something else. DON'T DO IT. We're already giving you what you need. In this case, they're trying to sell you hosting, but ActingWebsites.com is already your host. So "Skip".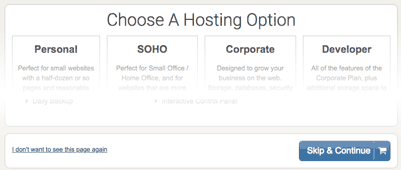 4 – NameServer.
This is where you actually "Point" your Domain to your Website (see "Domains – Definition" above). Just type in
ns1.biggianthosting.com
on the first line, and
ns2.biggianthosting.com
on the second. If your form has more, just leave them blank. Big Giant is the cute name we called our server system! The rest is just your contact and credit card info.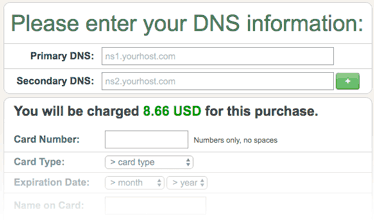 THAT'S IT!
Not really so bad. So go and get your domain now!
IF YOU PREVIOUSLY OWNED A DOMAIN NAME
You might just need to 'transfer' (ie: link) it to us: Sign in to your registrar (whomever your bought the domain name from). There should be a place to "Manage" your domain. You'll find a setting for "DNS" or "NAMESERVER". Just type in
ns1.biggianthosting.com
on the first line, and
ns2.biggianthosting.com
on the second. If your form has more, just leave them blank. Save it and you're done!! – Big Giant is the cute name we called our server system!